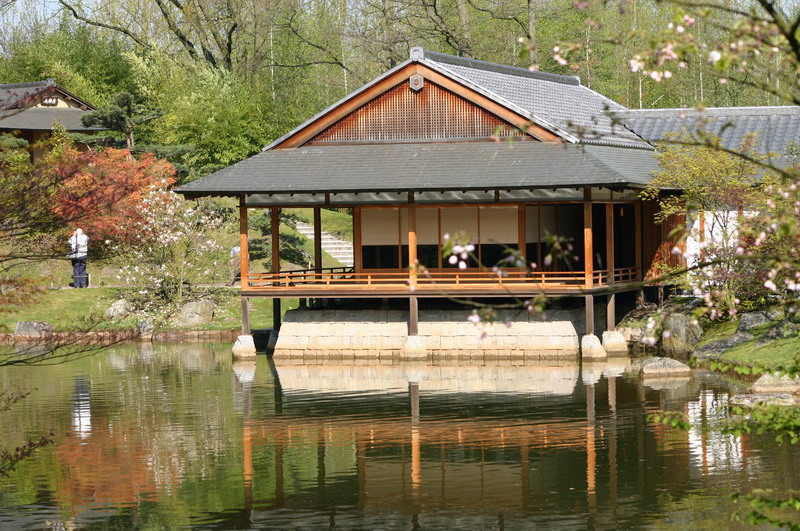 Avec ses 25 000 m² (2,5 ha), le Jardin japonais de Hasselt est l'un des plus grand d'Europe. Aménagé en 1992 avec le concours de la ville d'Itami (la ville japonaise jumelée avec Hasselt), il vous présente le paysage japonais typique, selon le modèle des jardins du XVIIe siècle. Déambuler dans ce jardin, c'est s'ouvrir à une autre culture, se plonger dans une atmosphère sublime qui met tous les sens en éveil.
Le jardin se compose de trois parties :
une zone de transition entre le parc occidental de Kapermolen et le Jardin japonais proprement dit
le jardin central, avec la maison de cérémonie, le salon de thé, le murmure des pièces d'eau et une végétation enchanteresse,
un parc planté de 250 cerisiers du Japon.
With its 25,000 m² (2.5 ha), Japanese Garden of Hasselt is one of the largest in Europe. Finished in 1992 with the support of the city of Itami (Japanese sister city Hasselt), it presents the typical Japanese landscape, modeled on the gardens of the seventeenth century. Strolling in the garden is open to another culture, to immerse themselves in a sublime atmosphere that puts all the senses.
The garden consists of three parts:
a transition zone between the Western Park Kapermolen and Japanese Garden itself
the central garden, home ceremony, the tea room, the murmur of water features and enchanting vegetation
a park planted with 250 Japanese cherry trees.
ATB TV production 2014 http://www.aquatechnobl.be – http://www.atbtv.eu